536 Hi Tech Parkway, Oakdale, CA 95361  •   Ph: 209-847-1758  •  Fax: 209-847-5144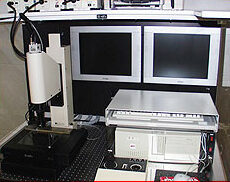 Automatic Measuring Systems
Automatic Measuring Systems are offered with 3 axis CNC control, Video Edge Detection, Auto-focus, and full Programmability. Results can be feed to SPC software or spread sheet and stored for your inspection records.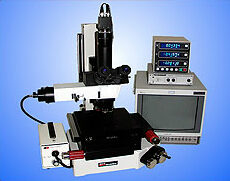 Microscopes
At Valley Precision, we meet the measuring and positioning needs of many industries with our microscopes. Each one can be tailored to your exact specifications. Magnifications in excess of 3000X and Sub-micron Accuracies can be achieved with your choice of components from all major suppliers.
Positioning Tables
Positioning tables ranging from small to large with accuracies unequaled in the industry can be built to your demanding requirements. All tables are shipped with graphs generated from our HP Laser Metrology System with 1 millionth resolution. Linear encoders are also measured and calibrated with the metrology system.